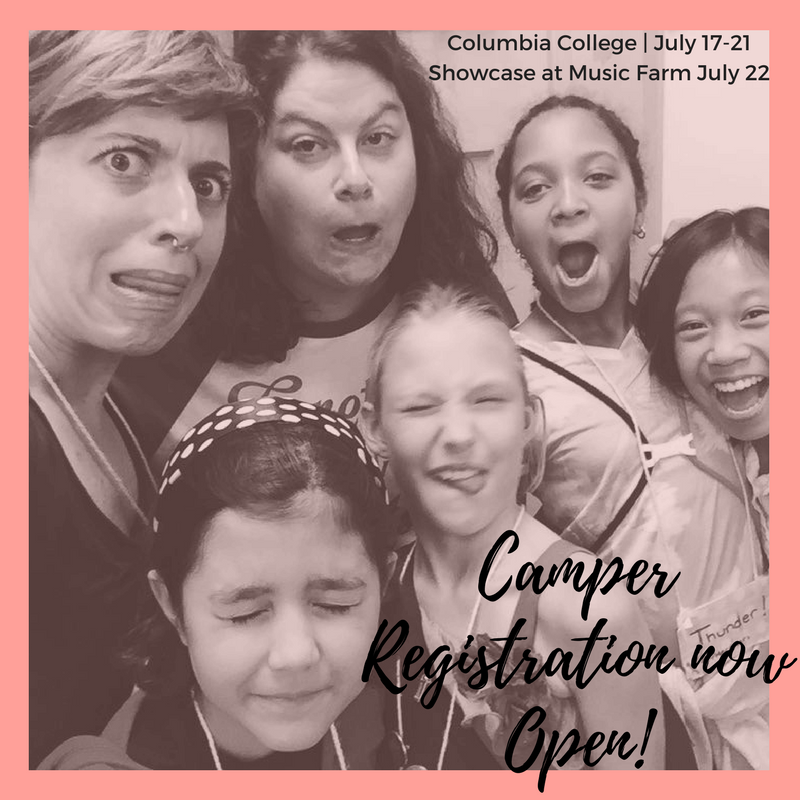 It's camp season again!!
Girls Rock Columbia camper registration will be open from March 8, 2017 to 10:00 pm on April 29, 2017.
WHO: Girls and trans and gender nonconforming youth ages 8-17 (must be at least 8 on or before first day of camp)
WHEN: July 17-21, showcase on July 22! GRC is a day camp and runs from 9 am to 5 pm. The camp showcase begins at 3 pm.
WHERE: Camp will be held at Columbia College (1301 Columbia College Dr, Columbia, SC 29203); the Showcase will be at Music Farm Columbia (1022 Senate St, Columbia, SC 29201).
This is the second year that Girls Rock Columbia is offering the Peer Mentor program! Peer Mentors will have the chance to focus on leadership and facilitation skills during camp with additional musical and volunteer responsibilities.
Teens who are interested in being a peer mentor must:
~be 15-17 years old at the start of camp (younger teens with 2+ prior years of GRC experience eligible)
~have attended one previous GRC camp
~demonstrate responsibility, reliability, and a dedication to the mission of Girls Rock Columbia
~attend a Peer Mentor training session on Saturday, July 15 (location TBD)
~attend volunteer orientation Sunday, July 16 (Columbia College, 1 pm – 4 pm)
The Peer Mentor program is optional; teens are welcome to attend Girls Rock Columbia as campers!
Please note that it is central to our values that Girls Rock Columbia is accessible to and inclusive of young people and their families of all backgrounds. Campers are not selected on a first-come, first-served basis; they are selected to create a balanced camp population in relation to instrument groups, age, race/ethnicity, economic status, geography/community, and lived experience. We receive more applications than we have camper spots, so we will not be able to accept everyone who applies. Campers who are not immediately accepted will be put on a waiting list and alerted if space becomes available. Please be aware that we make every effort to welcome back returning campers, but we cannot guarantee spots for returning campers.
Cancellation Policy:
If you need to cancel before May 6, 2017, we will keep a $25 application processing fee and refund the remainder of your payment. If you cancel before May 20, 2017, we offer a 50% refund of your payment. Please note that no refunds will be issued after May 20, 2017.
Any questions about camper registration can be directed to hello@ed6.349.myftpupload.com
For registration for campers 8-12, click here!
For registration for campers 13-17, click here!
See you at camp!
---