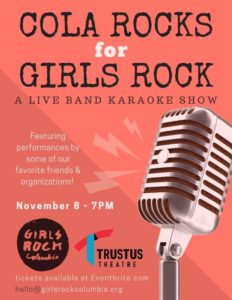 Join us for a rockin' evening of live band karaoke featuring some of our local friends and partners! These courageous performers have volunteered to sing their favorite songs to help us raise $15,000 for our 2019 goals. Our goals include:
Obtaining a space to host year-round programming (after school and spring break programs).
Hiring staff to facilitate year-round programming.
Providing more training for staff and volunteers on: prioritizing accessibility, anti-racist work, gender disparities, and LGBTQIA+ issues.
Buy tickets!
Can't make the show, but still want to support our fundraiser?
Donate here.