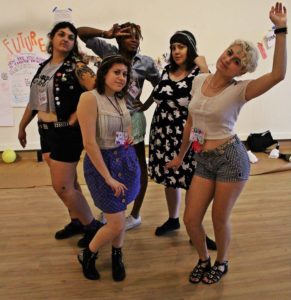 Girls Rock Columbia always welcomes reliable, dedicated volunteers who support our mission. Our programs would simply not exist without our volunteers. We appreciate your skills, time and enthusiasm! We have several opportunities with varying time commitments, from just a few hours to several weeks. Some positions require musical experience, but many do not. Volunteers must be at least 18 years old. All positions are open to female, trans and non-binary individuals. Fill out our Volunteer Interest Form for updates on the best ways to get involved!
Upcoming opportunities with GRC
Girls Rock Camp 2020
Stay tuned for more on Camp 2020, coming soon! 
Check out our Camp volunteer positions below, sign up for our volunteer newsletter for updates, and email us at volunteer@girlsrockcolumbia.org with any questions.
Camp Volunteer Sign-Up
Review the volunteer positions and requirements listed below.
Submit a camp volunteer application form.
If you'd like to volunteer as a Workshop Facilitator, please review the suggested topic areas and submit a workshop proposal in addition to the volunteer application.
Complete a $10* volunteer background check. (An email regarding background checks will be sent to volunteers after they sign-up).
*Girls Rock Columbia strives to be accessible for all volunteers. If you are unable to pay the $10 fee, please contact us at hello@girlsrockcolumbia.org and we will make arrangements to cover the cost for you.
Girls Rock Columbia conducts background checks on volunteers filling particular jobs at camp. Background checks are conducted by an independent agency and include a Social Security trace, U.S. criminal search, and national sex offender registry search. All background check-related personal information is kept confidential by the agency. We recognize that background checks are a part of a larger system that surveils, criminalizes, and oppresses people, especially people of color, queer people, and people who are undocumented. Not having a social security number or having a criminal history will not automatically impact your ability to volunteer. In that case, we will contact you for further discussion.
---
Summer Camp: Working with Campers
Band Coach
The campers form their bands on the first day of camp—that's when your work begins! As a band coach, you will provide guidance in all aspects of working as a collaborative creative time. This role involves helping your band:
set up and tune instruments
write songs
learn how to play together
figure out stage moves, etc.
Camp Counselor
As a camp counselor, you will serve as a mentor for an assigned group of girls. Counselors must be available during camp week, Monday-Friday, 8:45am-6pm. No music experience is necessary. This role involves:
participating in games and skits
making sure campers are where they need to be at all times
accompanying campers between classrooms
offering advice and help throughout the day
Instrument Instructor
As an instrument instructor, you will teach campers how to play one of the following musical instruments: electric guitar, electric bass, drums, or keyboard. Instructors must be available during camp week, Monday-Friday, 9am-12pm. Music experience is necessary. This role involves:
planning lessons with other teachers
teaching campers a new instrument
creating a supportive learning environment for campers
Workshop Facilitator
As a workshop facilitator, you will provide a one-hour lesson to campers on a topic relevant to our mission and must have experience in your chosen topic. Sample workshop topics include: songwriting, self-defense, media literacy, home recording, etc. No music experience necessary. Workshop facilitators must be available to teach 1 or 2 one-hour sessions on their scheduled day. Workshop facilitators must submit a workshop proposal in addition to a volunteer application and be prepared to meet with a camp organizer to discuss curriculum before camp. This role involves:
developing lessons plans
presenting the workshop to groups of campers organized by age
co- and/or team-teaching during the workshop
Licensed Clinical Counselor
On the occasion that a personal issue arises for campers, you will be available to talk with them and/or refer them to services if needed. This role has a flexible schedule.
Licensed Nurse
A licensed nurse is needed on-site all week. You will provide health care services to campers if needed. This role has a flexible schedule.
---
Summer Camp: Behind the Scenes
Food Team
Snacks are donated for the campers to enjoy twice daily. As a food team member, you will pick up food donations, go on supply runs and prepare food as needed. This role has a flexible schedule.
Pick up/Drop-off Assistant
This role assists with the daily camper check-in and check-out. As a pick-up/drop-off assistant, you will also monitor visitors, coordinate in-camp communication, provide directions, answer questions, and (possibly) sells showcase tickets. This role has a flexible schedule.
Roadie
Help us set up, break down and move equipment throughout the week. No music necessary. This role has a flexible schedule.
Runner
You're a go-to! This role helps with last-minute needs, i.e. running to make copies or the hardware store, filling in if another volunteer can't make their shift, and help out as situations arise. This role has a flexible schedule.
Showcase Production Assistant
We need hands on deck to sell tickets and merch, fold programs, and help ensure that all aspects of the showcase concert run smoothly. Must be available on the Saturday of camp.
---
Community Events
Girls Rock Columbia loves to participate in community events throughout the year. Support us by volunteering to raise awareness about our organization and youth programs. You can volunteer as little or as often as you want. Opportunities include:
working at a table and providing information about our organization
working at a table and engaging children and their parents
hosting a workshop on a topic that supports Girls Rock Columbia values
Interested in joining our outreach efforts? Email us at hello@girlsrockcolumbia.org for information on how you can help.