Girls Rock Columbia is a music camp where girls learn an instrument, form a band, write an original song, and perform a concert at a live music venue. In addition – they participate in various workshops throughout the week that promote self-confidence, positive skills, and further their education about being strong members of society.
Girls Rock Camp exists in different parts of the world and can look a little bit different depending on where you are.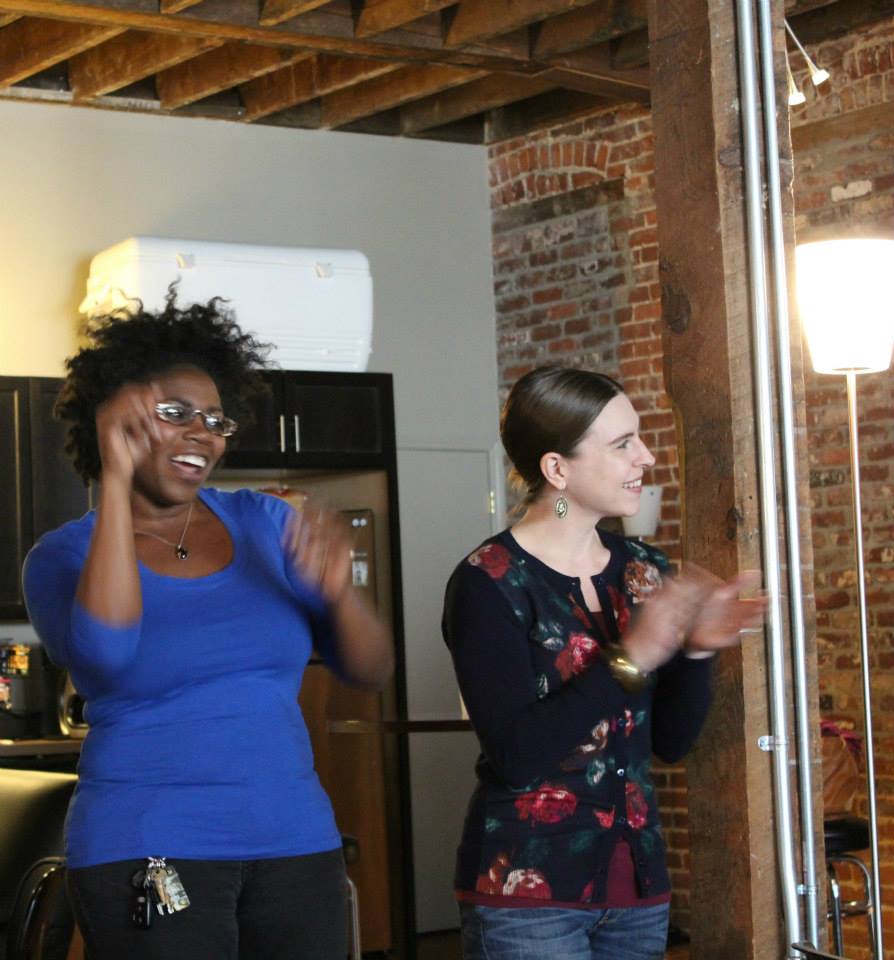 Our program encourages an environment that cultivates self-confidence, challenges gender stereotypes, promotes positive female relationships, creativity, and leadership.  The ultimate goal of Girls Rock Columbia is to empower everyone involved; both campers and volunteers, to take the sense of community learned from within the organization and carry that throughout the city they call home.
At Girls Rock Columbia, the campers learn to play an instrument, form a band, write an original song and, at the end of the week, perform a concert at a live music venue for the entire community. Campers also engage in daily workshops that encourage confidence & leadership!
Camp is open to all regardless of musical ability. Girls Rock Camp is a way to provide a safe space where youth can identify as musicians, make friends, and have fun!
Girls Rock Columbia hosted the first camp in 2013 at Eau Claire High School. 5 bands were formed from campers and over 300 people came to our showcase at the Tapps Art Center – and to this day, we're still growing.
FAQ's For 2017 Camp Info: 
This year's camp will be held at Columbia College

Teen leader training will be held July 15 & 16 and regular camp July 17-21

Showcase: July 22

Camp Registration is open until April 29 @ 10pm
How do I sign up?

Registration opens on March 8. You can apply online (Here: http://girlsrockcolumbia.org/camper-registration/).

How much does camp cost?

Full camp tuition is $350.00 per camper for the entire week.

We sincerely seek to support each child who wants to participate in Girls Rock Columbia and do not want camp fees to prevent any child from attending camp. To better serve a diverse economic population, we use an income-based sliding scale for tuition. Sliding scale enables folks to determine what best fits their budget. That being said, know that your payment for GRC camp is subsidizing the cost in all its parts. We ask that you take into consideration both your financial needs and the financial needs of Girls Rock Columbia.

What do campers get for that cost?

This fee covers many expenses to provide an exceptional experience for the campers: including the camp and showcase facility rental, equipment acquisition, workshop supplies, daily snacks and many other costs that ensure a quality camp experience.

How many campers will there be at camp?

Our goal is to host 40 campers this year.

Who gets accepted to camp?

In an effort to create a diverse camp, we consider age, ability and camper interest to help form each of the bands at camp. Because of this, we do not accept campers on a first come first serve basis. If we have age brackets that fill up quicker than others, we will compile other applicants of that age on to a waiting list in an effort to include as many eager campers as possible. All applicants will be notified of acceptance by TBA. Check out the video below for more information on how this process works! (The dates are from 2014, but the process is still the same!)
How long has Girls Rock been going on?

2017 will be Girls Rock Columbia's FIFTH year of camp. Our first camp (2013) was held at Eau Claire High School. 5 bands were formed from camp and over 300 people came to our showcase at the Tapps Art Center! Camp tripled in size in 2014, and this year, we're capping attendance at 40 campers.

Girls Rock Columbia is a member of the Girls Rock Camp Alliance. Girls Rock Camps help youth build self-esteem and find their voices through unique programming that combines music education and performance, empowerment and social justice workshops, positive role models, and collaboration and leadership skill building. The GRCA supports camps around the globe in this mission.

How can I get involved?

Volunteer! We are always looking for dedicated female identified volunteers to help us out for the entire week of camp. Check out our volunteer application (http://girlsrockcolumbia.org/volunteer-information/) to see how you want to help!

Can't take a week off to help at camp? No worries, we are always looking for great female identified volunteers to help us throughout the year at community events. Sign up for our emails to see how you can be involved!